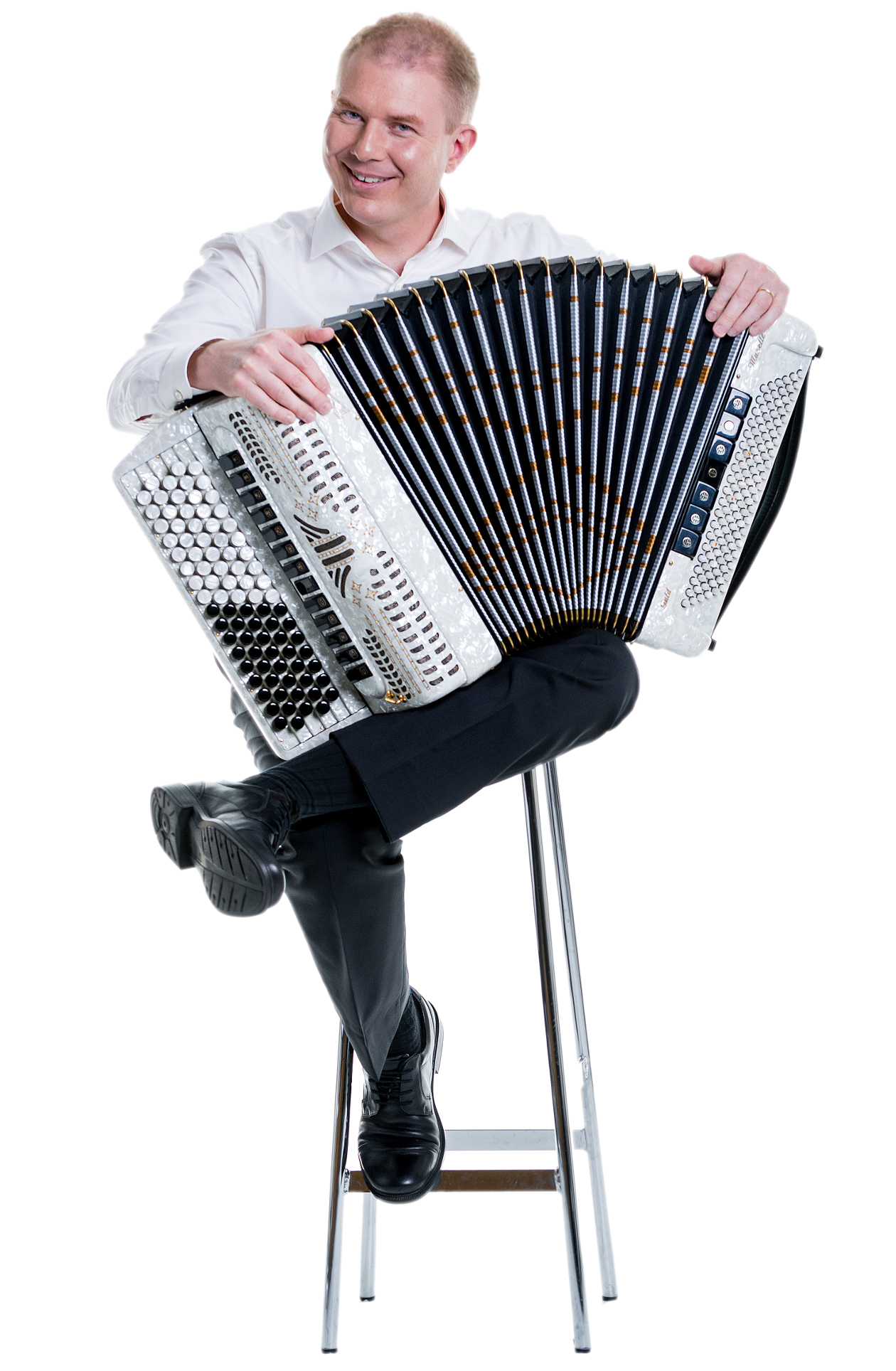 Pierre began to play on his fathers Accordion as a two-year-old. Three years old, he got his first Pianoaccordion. Two years later, his first Buttonaccordion. At the age of six, he participated in his first TV program: "100 Accordionplayers and a girl". A SVT live broadcast from Gröna Lund, Stockholm. Two years later, he made a tour in the United States and played together with Hasse Tellemar and Walter Eriksson, among others.
Accordion competitions
Pierre competed in the junior World Championship in Accordeon at an early age and came in second place. He competed in the Swedish Championchip in Accordeon, when he was ten, eleven and twelve years old and won all years. He was 1996 the "The Accordionplayer of the Year" after a vote of all members of the Swedish Accordion Association.
"The evening got a great start with the dextrous Accordeonplayer Pierre Eriksson" -Kungälvsposten
Collaborations
Pierre is something as unusual as a soloist who also is a bandleader and accompanist. Pierre has collaborated with a variety of artists. Over the years it has become as varied as Thore Skogman, Ebbe Jularbo, Lotta Engberg, Julio Iglesias, Erik Frank, Håkan Hellström, Christer Sjögren, Loa Falkman, Owe Thörnqvist, Totta Näslund, Trazan and Banarne, La Gaylia Frazier, Galenskaparna & Aftershave, Triple & Touch, Bröderna Rångedal, Mats Ronander, to name a few.
Recordings
Pierre has released seven own CDs including a collection CD (he recorded his first LP when he was ten years old). You can also hear Pierre's accordionmusic on a large number of other artists CDs.
The Music Arranger
Pierre always makes various musical arrangements for different orchestra. Original music with special orchestration, standard work for smaller setups such as three or five horns. Even string-quartet, woodwind-quintet etc.
Awards
Pierre has received a number of awards and scholarships. For example: Andrew Walter, 1989 and Hagströms, 1997.
Assignment
Pierre received his first major assignment as a bandleader 1993 in Swedish National Television 4 and the program: "Bingolotto". It was broadcast the day before Christmas Eve. Legendary Leif "Loket" Olsson was the host and the number of viewers were over three million. Since then, Pierre has participated in a variety of radio and television programs. He has played in almost every big Concert Hall in Sweden. He has played solo (accordeon) with the Gothenburg Opera Orchestra, accompanied Rikard Wolff on The Royal Dramatic Theatre. Being one of four young boys that started the Swedish Dance Orchestra "Barbados". He has been touring and making concerts for the public and companies in a variety of countries.
"As listeners and spectators, it's hard to imagine that much more can be done with an Accordion" Örnsköldsviks Allehanda
Other
Pierre has taught Accordion and music ensemble in Senior High School. Nowadays, he only gives masterclasses. He is one of few accordion players in the world who launched his own Smartphone App, where beginners can learn how to play the Accordion.